Chateau de Versailles

Illumination of the Grande perspective and the Castle
Integrator : Soliled
Lighting Designer : Les Eclairagistes Associés – Lyon: L.Fachard-J.Frey-E.Courtel
Product : Pixels PowerPix and Drivers from eldoLED, DMX controller from Pharos Controls
Photo Credits : ©Xavier Boymond
Digital Lighting Control and Smart Building Automation Specialist
Turnkey Solutions & Products
For your interior-exterior lighting control or for building automation projects, you are looking for company taht can bring you advices, robust and lasting solutions.
Soliled supports you in defining the Technical Solutions adapted to the project from the design phase to the on-site comissioning phase.
We commit ourself to the solutions chosen.
Our Product ranges
Our selection of products is varied and covers most of mains needs of the lighting control system.
The brands we distribute have been carefully selected to bring you the best in technology.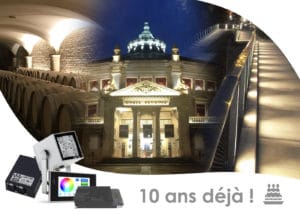 10 years anniversery !!!   a new WEB site to celebrate this event.
Thanks to all of you; Customers, partners, suppliers, collaborators for your trust and confidence which allowed us this adventure.
10 years ago, 2 school friends, electronic engineers, shared the same vision about the digital technology into building and lighting. We were right and the future will be even more connected. LED (electronic light) is a fabulous accelerator of this technology transition.
We are proud of the progress done, the expertise of our team and the joy to serve you all the time.
We have been fortunate and honored to participate in many projects, some of them are emblematic and innovative.
We met and value wonderful people during all these 10 years, who help us to always provide the best we can.
We are continuing to prepare the future, and this new web site is one of our actions,  which will bring you, we hope, better support and better understanding of Soliled.